Hi,
I'm a bit frustrated.
I had the brilliant idea of updating the firmware of my old legacy kit v1.1
Firmware got updated. Everything is fine.
Kit is publishing:
<<
SCK Waking up…
SCK Connected!!
updates = 1
Posted to Server!
Old connection active. Closing…
SCK Sleeping
---
Temperature: 27320 C RAW
Humidity: 13712 % RAW
Light: 196.90 lx
Battery: 94.00 %
Solar Panel: 0 mV
Carbon Monxide: 430.42 kOhm
Nitrogen Dioxide: 171.22 kOhm
Noise: 0 mV
Wifi Spots: 5
UTC: 2020-4-13 14:07:26
---
But the web api says it's offline.
I tried the onboarding process again and here comes my frustration:
When I try to start the setup it tells me, that it just works on Chrome … but I am on a Chrome Browser.
When I try to sign in through the Chrome extension I get a 404 saying that the resource is not available.
What am I doing wrong? I just would like to set up my old kit.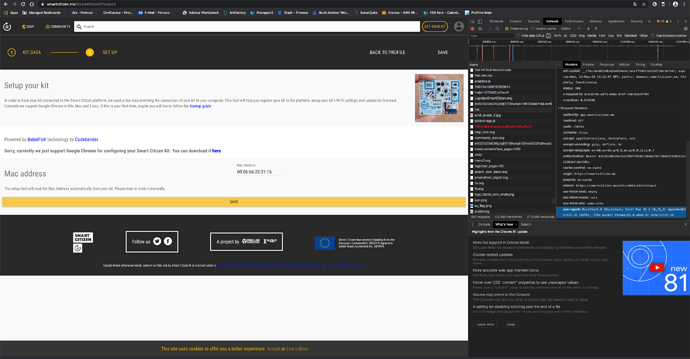 I also have a new kit and that one works fine.